BENEFITS
DETAILS
HOW TO USE
INGREDIENTS
中文版
COSRX Acne Pimple Master Patch is good for:
Diminishing blemishes

Soothing pimple inflammation

Shielding vulnerable areas from irritants
COSRX Acne Pimple Master Patch
3x24s
Diminishes blemishes, soothes inflammation and shields area from irritants. Top-selling Acne Treatment Patch from Korea, that heals pimples overnight and prevents future breakouts quickly. This hydrocolloid dressing intensively extracts impurities while creating a protective barrier that guards external irritants. For natural look by covering blemishes during the daytime. Each pack comes with 3 different sized patches (8mm x 10s, 11mm x 5s, 13mm x 9s). You can choose the one regarding the size of your acne.
Convenient and easy to use! Simply apply the patch on the desired area after cleansing.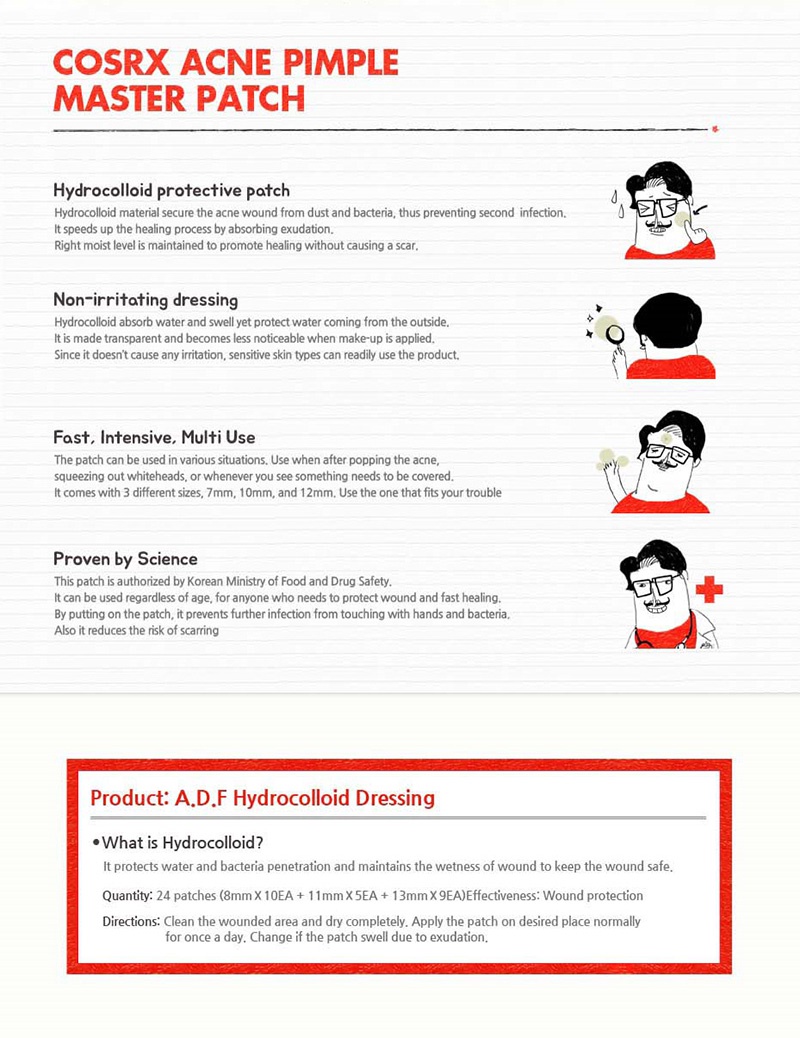 Before application, clean face and hands well. Peel an appropriately sized patch and completely cover the blemishes. Replace the patch with a new one when it turns white and has absorbed the oils.

Cellulose Gum, Styrene Isoprene Styrene Black Copolymer, Polyisobuylene, Petroleum Resin, Polyurethane Film, Liquid Paraffin, Tetrakis Methane
这种水胶体敷料可在提取杂质的同时,形成保护屏障,保护外界刺激物。白天遮盖瑕疵,自然妆容。