How Bad Is It Really to Eat Tilapia?
Tilapia has a fishy reputation. It seems a decade-old study fueled a collective fear that tilapia was dangerous to eat and, with a comment that got taken out of context, the fish was believed to be worse for a person's health than bacon or doughnuts.
Still, tilapia is the fourth most-eaten fish in the U.S., so it can't be all bad, right? People love tilapia for its affordable price and mild flavor that lends itself to countless recipes, without tasting too fishy.
So let's clear up the tilapia debacle for good. We'll look at how the myths around tilapia first started and then evaluate the fish's pros and cons.
Tilapia is the overarching term that refers to several species of freshwater fish that are both farmed and wild-caught; there are over 100 species of fish that are considered tilapia, as outlined by Seafood Health Facts.
Culinary-wise, this type of fish tends to be thick, and it's considered a "blank-slate" because it's not too fishy and suits all types of cuisines.
More than 80 nations produce farm-raised tilapia, including the U.S., but China is the fish's largest producer and accounts for more than 50 percent of the world's tilapia production.
Why Does Tilapia Get a Bad Rap?
Over the years, tilapia has gotten some flack due to one study and several salacious news headlines that claimed the fish is nutritionally worse than bacon because it can increase the risk of cancer and Alzheimer's disease. These claims are untrue. (Fake news about fish... who would have thought?)
A now-controversial July 2008 study published in the ​Journal of the American Dietetic Association​ reported that "tilapia is not a good choice" for people who are "eating fish as a method to control inflammatory diseases such as heart disease." And here's where the bacon association was born. The study authors report: "All other nutritional content aside, the inflammatory potential of hamburger and pork bacon is lower than the average serving of farmed tilapia."
This description was taken out of context and, unsurprisingly, created a moral panic about tilapia.
The study and its findings caused quite a stir in the scientific community; several health professionals signed an open letter defending tilapia and its nutritional benefits, explaining why the fish was a better pick than the meat alternatives cited in the study.
"Replacing tilapia or catfish with bacon, hamburgers or doughnuts is absolutely not recommended," they wrote. Harvard Health Publishing also shielded the fish from such slander, asserting that tilapia is a good dinner pick.
The Risks of Tilapia Are in Its Farming Practices
Farmed tilapia isn't dangerous by nature, but increased demand for the fish has led to some unsavory farming practices that may be cause for concern.
As previously mentioned, Seafood Watch advises consumers against eating tilapia farmed in China. Some fish farmed in China are fed feces from livestock animals, a practice that can increase the risk of bacterial contamination and the need to treat the fish with antibiotics, per McGill's Office for Science and Society.
Treating tilapia with antibiotics poses its own set of problems. Bacteria that survive antibiotic treatment can develop resistance to the drug, which can decrease the general effectiveness of the antibiotics, per the Bard Center for Environmental Policy. A related concern is that antibiotics currently banned in the U.S. may be used in aquaculture in trade countries like China. A significant portion of seafood that enters the U.S. is sourced from countries with weak or nonexistent regulations to slow antibiotic resistance, which may progress the spread of resistant bacteria in the U.S.
One way to avoid eating fish that are fed animal feces (and thus, likely less treated with antibiotics) is to steer clear of tilapia from China. But this isn't always so simple: 73 percent of the tilapia imported from the U.S. comes from China, according to a 2017 market analysis by the Food and Agriculture Organizations of the United Nations.
The Health Benefits of Tilapia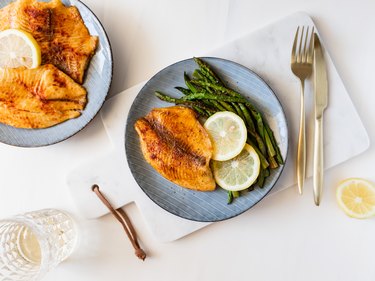 The USDA's 2020-2025 Dietary Guidelines for Americans (DGA) recommends most Americans, including children and pregnant people, eat seafood at least twice a week. Around 80 percent of adults currently fail to meet these guidelines, per the USDA.
Tilapia is not as rich in omega-3 fatty acids as other fish such as tuna and salmon, and tilapia contains more omega-6 fatty acids than it does omega-3s (and this may be the fact that incited so much fish drama in 2008). Whereas omega-3s are believed to combat inflammation, some research suggests that eating omega-6 fatty acids in excess may contribute to inflammation, per a March 2016 study in ​Nutrients​.
This doesn't mean tilapia is unhealthy. Omega-6 fatty acids are essential, helping to keep cholesterol in check and improve the body's sensitivity to insulin, per Harvard Health Publishing.
The issue with omega-6s is that the body can convert some into another fatty acid called arachidonic acid, which is associated with inflammation, blood clotting and blood vessel constriction. Still, only very small amounts of omega-6 fats are actually converted, per Harvard Health Publishing.
And while tilapia contains less omega-3s than fish like salmon and tuna, a 3-ounce serving of farmed tilapia provides about 100 milligrams of omega-3 fats, per Harvard Health Publishing, which is more than what you'd find in other animal-based protein sources.
Beyond its essential fatty acids, tilapia has an impressive nutrition profile. Tilapia is a great source of vitamin B12, selenium, potassium, niacin and phosphorus. One 3-ounce cooked serving contains:
109 calories
0 g carbs
2.3 g fat
48.5 mg cholesterol,
22 g protein
Selenium: 84% of the Daily Value (DV)
Vitamin B12: 66% DV
Vitamin B3 (niacin): 25% DV
Vitamin D: 16% DV
Phosphorus: 14% DV
Potassium: 7% DV
How to Buy Quality Tilapia
Tilapia ​can​ be a sustainable choice, so long as you do your research and buy responsibly. The Monterey Bay Aquarium's Seafood Watch recommends buying tilapia farmed in Peru in raceways and Ecuador in ponds.
Tilapia is a safe bet when it is farmed in indoor recirculating tanks with wastewater treatment and a decent option when the wastewater isn't treated.
Other smart tilapia options come from:
Colombia
Honduras
Mexico
Indonesia
Taiwan
Blue tilapia (also known as Izumidai or Saint Peter Fish) that is farmed in Peru is the most sustainable choice.
This type of tilapia is farmed from fisheries with sustainable practices. Another solid option, according to the resource, is hybrid red tilapia, which is farmed worldwide in indoor recirculating tanks with wastewater treatment.
So Is It Really That Bad to Eat Tilapia? 
The answer to this question truly depends on what type of tilapia you're eating as well as your personal health concerns. Here are the three main takeaways to keep in mind:
Farmed tilapia imported from China poses greater risks to sustainability and your health.
The Seafood Watch recommends buying tilapia farmed in Peru in raceways and Ecuador in ponds. Tilapia is a safe bet when it is farmed in indoor recirculating tanks with wastewater treatment and a decent option when the wastewater isn't treated.
If you are concerned about your omega-6 intake, you may want to choose a different type of fish.
Blog source from livestrong